Sniper
Information
Health Points
100
Armor Points
100
Primary Weapon
Damage
Easy
Normal
Pro
20-50
25-70
35-90
Rate of Fire
Easy
Normal
Pro
20
30
50
Accuracy
Easy
Normal
Pro
99
101
102
Secondary Weapon
Damage
Easy
Normal
Pro
5-25
7-30
10-40
Rate of Fire
Easy
Normal
Pro
60
80
100
Accuracy
Easy
Normal
Pro
1
9
15
Sniper (The Great White)
Information
Health Points
100
Armor Points
100
Primary Weapon
Damage
Easy
Normal
Pro
20-60
25-70
35-90
Rate of Fire
Easy
Normal
Pro
30
40
50
Accuracy
Easy
Normal
Pro
101
101
102
Secondary Weapon
Damage
Easy
Normal
Pro
11-15
12-25
15-35
Rate of Fire
Easy
Normal
Pro
90
100
110
Accuracy
Easy
Normal
Pro
17
17
17
Sniper (Volcano)
Information
Health Points
100
Armor Points
100
Primary Weapon
Damage
Easy
Normal
Pro
Hardcore
20-60
25-70
35-90
35-90
Rate of Fire
Easy
Normal
Pro
Hardcore
30
40
50
60
Accuracy
Easy
Normal
Pro
Hardcore
101
101
102
102
Secondary Weapon
Damage
Easy
Normal
Pro
Hardcore
11-15
12-25
15-35
20-45
Rate of Fire
Easy
Normal
Pro
Hardcore
90
100
110
120
Accuracy
Easy
Normal
Pro
Hardcore
17
17
17
17
Sniper (Cold Peak)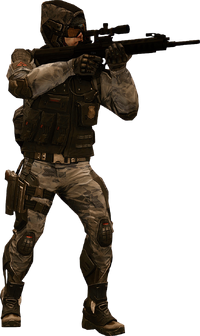 Information
Health Points
125
Armor Points
100
Primary Weapon

Damage
25-70
Rate of Fire
30
Accuracy
101
Secondary Weapon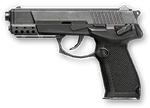 Damage
12-25
Rate of Fire
100
Accuracy
17
Sniper (Cold Peak)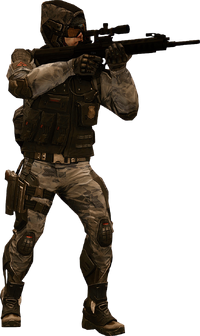 Information
Health Points
100
Armor Points
100
Primary Weapon

Damage
35-90
Rate of Fire
50
Accuracy
102
Secondary Weapon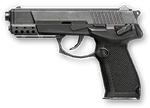 Damage
15-35
Rate of Fire
110
Accuracy
17
Sniper (Black Shark)
Information
Health Points
100
Armor Points
100
Primary Weapon
Damage
Easy
Normal
Pro
20-60
25-70
35-90
Rate of Fire
Easy
Normal
Pro
30
40
50
Accuracy
Easy
Normal
Pro
101
101
102
Secondary Weapon
Damage
Easy
Normal
Pro
11-15
12-25
15-35
Rate of Fire
Easy
Normal
Pro
90
100
110
Accuracy
Easy
Normal
Pro
17
17
17
Sniper (Icebreaker)
Information
Health Points
100
Armor Points
100
Primary Weapon
Damage
Easy
Normal
Pro
20-50
25-70
50-90
Rate of Fire
Easy
Normal
Pro
20
30
50
Accuracy
Easy
Normal
Pro
100
101
102
Secondary Weapon
Damage
Easy
Normal
Pro
15-50
40-140
70-160
Rate of Fire
Easy
Normal
Pro
100
100
100
Accuracy
Easy
Normal
Pro
30
30
30
The Sniper is an enemy.
The Sniper is equipped with a high powered, long-range, high accuracy rifle. Usually snipers take position on high grounds (rooftops, upper store windows, balconies) and rarely change position.In harder difficulties, they deal more damage, have more accuracy, and shoot faster.
Their special ability is the ability of using the "Prone Position", this can make them less noticeable and harder to shoot.
In most cases, the best tactics against snipers is good use of cover and use of high accuracy long range weapons such as Assault Rifles and Sniper Rifles.
For Medics and Engineers, that usually lack weapons of good accuracy for long-range battles, pistols are recommended.
Like Demoman, Snipers use their pistols to shoot players that are too close.
Community content is available under
CC-BY-SA
unless otherwise noted.