In PvE, mission players are fighting AI controlled Blackwood soldiers. There are several distinct types of enemies that can be encountered. Certain enemies will never appear in easy missions and the enemies in more difficult missions will have more hit points and armor.
Normal Enemies

[

]
Advanced Enemies

[

]
These enemies usually only appear on Survival Missions, but may also appear on Africa PvE Missions.
Special Enemies

[

]
PvE Co-op Bosses

[

]
Survival Bosses

[

]
XM312 Machine Gun

[

]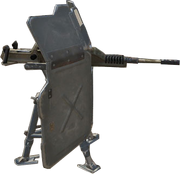 A stationary machine gun with considerable firepower which may also have a protective shield for the gunner. These emplacements can be manned by most Blackwood troopers and even once the gunner is killed can be reactivated by another trooper. Machine guns with a shield are vulnerable to flanking. If flanking is problematic – grenades or aiming for the exposed feet are viable options.
Cyborgs

[

]
They appear on Survival Missions and on some Africa PvE missions. Alphas, Betas and Omegas take 200% increased damage from most Anti-Cyborg weapons and Bolt-action sniper rifles, 50% from Gold weapons, Ares weapons and Automatic or Semi-Automatic Sniper Rifles, and 20% from Cyber Slayer weapons, these bonuses stack. All other cyborgs are unaffected by those weapons. All cyborgs, except the Enigma and the Crusher, take 2x damage in the head (5x instead on Hard difficulty for Alpha, Beta, Omega and Screamer), which stacks with weapon damage multipliers. Cyborgs' melee damage does not ignore armor points.
Turrets

[

]
The turrets appear on Survival Missions and on some Africa PvE missions. Each turret has its own weakness which must be exploited for better chances against them.
Drones

[

]
The drones appear on Pripyat. They are armored flying enemies.
Droids

[

]
The Spider Mine appears on Mars.
Swarm

[

]
The Swarm appears on Swarm. They are weak to fire.