"

Warface is in for a real test of strength. Show everything you are capable of! Fight off Blackwood attacks and hold the energy weapon at all costs!

"

 

— Mission Description 
Hydra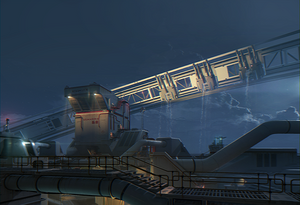 Location
Pacific Ocean
Difficulty Levels

Hydra is a Special Operation.
Overview
[
]
Unlike other PvE missions, this map can only be played by a maximum of 3 players. Players will get a box after the reward cycle is over if they completed at least 5 waves. Rewards will be improved if 10, 15 or 20 waves are completed.
Resources
[
]
Hydra has resources which can be used for many purposes, such as repairing the terminal only once, purchase a rocket launcher, activate allied turrets, activate deadly lasers and ballistic shields. Resources may be obtained at the end of each wave, from boxes around the map and by completing Mini-achievements. The easiest way to do this is to jump before each kill as much as possible and to go for headshots (Cyborg headshots don't give you anything, but are still the most effective way of killing them).
Random Events
[
]
During the course of the mission random events might occur, such as: a power outage that disables all resource-related items until it is restored, energy barriers requiring rocket blasts to be destroyed, poisonous gas around the terminal area, red smoke on the ramps. Requiring players to adapt to such adversities.
Enemies
[
]
Bosses
[
]
Rewards
[
]
Rewards
10490
15485
14486
4995
Crown Rewards
+25
+65
+110
300 000
400 000
450 000
+25
+65
+110
40:00
30:00
27:00
Special Rewards
[
]
5 Waves
[
]
10 Waves
[
]
15 Waves
[
]
20 Waves
[
]