"

Become a Shapeshifter, a soldier of an elite squad of the Blackwood corporation. Your task is to infiltrate the bank, break open all the vaults and destroy their contents.

"

 

— Mission Description 
Heist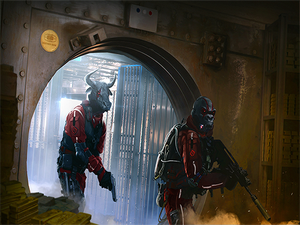 Location
Europe
Difficulty Levels

Overview
[
]
Unlike other PvE missions, this map can only be played by a maximum of 2 players. The SED Class is disabled.
Ropes
[
]
You must use the ropes to reach the vault floors. Enemy soldiers will appear and you need to kill 10 of them to progress on each floor they appear. Two floors will have enemies on Wave 1, three floors will have enemies on Wave 6 and four floors will have enemies on Wave 11. Red Smoke or Turrets can also appear. When you reach the vault floor, kill the Warface soldiers and activate the Cutter.
Vault Floors
[
]
Survive while the cutter opens the vault. It doesn't matter how many enemies you kill, they will continue to appear until the Cutter has been active for 50 seconds each wave. After that, kill all remaining enemies to end the wave.

Floor 1 has Easy enemies, Floor 2 has Normal enemies and Floor 3 has Hard enemies.

On Waves 5 and 10, a boss will appear. Kill the boss as soon as possible to end the wave.
The Roof
[
]
The final showdown with two SWAT Heavy Gunners. Kill them to complete the mission.
Random Events
[
]
Cutter
[
]
The Cutter is required to open the vaults. The Cutter can overheat and will explode after 15 seconds if not reactivated (and the mission will fail). While overheated, the cutter timer is paused. Reactivate it as soon as possible if you want to obtain a good completion time.

When the wave starts, the cutter will choose one timer at random. None of these allow the cutter to overheat before 0:10 or after 0:40.
Cutter Timers
Reactivations Required
First Overheat
Second Overheat
Third Overheat
Wave End
0
0:50
1
0:15
0:25
0:40
2
0:10
0:40
0:20
0:40
0:30
0:40
3
0:15
0:30
0:40
0:20
0:30
0:40
0:10
0:20
0:40
On Wave 2, the cutter always uses the third timer requiring 1 reactivation.
After 0:50, you still need to kill all remaining enemies to end the wave.
On Boss Waves, the cutter will overheat after 30-35 seconds until the boss is killed.
Night Vision
[
]
The police will take out the lights for two Waves on Vault Floors 2 and 3. You will automatically use night vision goggles when this happens.
Other Random Events
[
]
After Wave 2, all waves will have one of these random events:
Turrets: Cobras, Morays or Armadillos will appear.
Red Smoke: a cloud of red smoke.
Toxic Gas: this green smoke will damage players.
If red or green smoke do not appear, then turrets will definitely appear.
Tips and Tricks
[
]
As Heist only allows two players to play simultaneously, it can be a quite difficult mission for newer players as it is hard for one player to compensate for the other. Thus, communication and positioning are paramount if you desire to succeed. Besides that, below are a few tips and tricks to help you win.
Class Composition
[
]
The choice of classes is extremely important in Heist, as you need to have a good knowledge of the class itself and it's positioning to play it effectively. As it only allows two players, there will be a significant gap in the abilities of your team, so each player will also need to be able to survive individually. All classes can be played effectively to pass in any combination, provided you have adequate equipment and weaponry. The Medic and Rifleman combination are recommended for newer players to the mission, as they offer the best spread of skills and damage output necessary to pass.
Equipment
[
]
Many new players will assume that Warlord equipment is the best loadout to play this mission, and while it is definitely passable, anything that has no bullet damage reduction puts you and your teammate at a significant disadvantage. For that reason, the full Blackwood or Storm sets and some other equipment with damage reductions are the most adequate to attempt the mission, since they make survivability much higher, and thus gives the best chances at succeeding.
Weaponry
[
]
The choice of weapon is also very important, as having not enough damage output or ammo capacity can be very detrimental to your chances at passing. As a general guideline, all weapons with a decent fire rate and high ammo capacity are sufficient to pass, but each class has it's own quirks.
As a Rifleman, certain weapons possess low damage output, accuracy, or total bullet capacity. Having to stop frequently to restock or reload can be problematic, especially if you miss often, so Magazine fed LMG's and the newer Belt fed LMG's with fast reload times are the most qualified for this mission, but most assault rifles can be used as well if not going for Time.
As a Medic, you should avoid magazine-fed shotguns and shotguns with low ammo capacities or slow reloads, with the exception of the Fostech Origin-12. Having to frequently stop to reload can cause some untimely deaths, as a medic will tend to stay much closer to the enemy than other classes. The medic will also often be the one dealing the most damage to the heavy gunners, both on Wave 10 and on the Roof, so their choice of weapon and having enough ammo capacity to deal with those is very essential.
The Engineer has the hardest time in this mission, as most weapons will run out of ammo fast. Some weapons bypass the ammo capacity problems, or overcome that by having higher than average stats, most of them being newer box weapons, but some of them, like the FN P90 Custom and Thompson M1928, can be obtained with cards. The PP-19 Bizon also offers good ammo capacities, but is all in all a very underwhelming weapon.
The Sniper should avoid bolt action rifles at all costs. The slow fire rate will leave the player vulnerable to fire constantly, even if they have a high ammo capacity, and vulnerable to deal with certain threats like turrets and heavy gunners. Most semi automatic rifles are capable of killing standard enemies with a single shot, with the exception of the stronger ones such as the Demoman and Spec-ops, which demand two. Snipers such as the M14 Crazy Horse, Cobalt Kinetics Twenty-Seven and M4 Marksman Custom are by far the best options, as they have good damage and high ammo capacities.
Positioning
[
]
Positioning is a skill learned through several runs of the mission, as you need to learn the positions where the enemies come from and place yourself correctly with your teammate so you can quickly dispatch of them and keep the drill functioning. All waves need a player to stay in close proximity to the drill to ensure it is constantly functioning, with a moderate exception of boss waves, where the player near the drill may move to a more advantageous position to help defeat the heavy gunner or helicopter.
First Floor
[
]
Throughout the first vault, players should use the pillars as cover.
During the Boss Wave, both players should move to the far back wall behind the desks, and focus all of their fire on the Helicopter to eliminate it as soon as possible. Other enemies should be ignored unless they get behind your cover and are able to directly target you. Whichever player is closest to the drill should quickly run to it should it need to be restarted.
Second Floor
[
]
During the Second Vault, positioning becomes much simpler. Both players should take cover near the drill, and target enemies as they approach.
During the boss wave, If the enemy is a Heavy Gunner, one player should provide cover to other player by eliminating other enemies, while they approach the heavy gunner to kill it. Notably, the heavy gunner has less ammo and reloads faster than normal heavy gunners, and is also capable of a deadly melee attack, so they should wait nearby under cover while the Heavy Gunner spends his ammunition, and close the distance only while he reloads. If instead the G15 Pteranodon appears, the approach is similar to the first vault, where both players should stay on the same position and focus fire on the helicopter until it is destroyed, only targeting other enemies if they approach.
Third Floor
[
]
The third vault is by far the most difficult, as enemies will spawn on every side, and also rappel down from the skylights. As on Floor 2, the most advantageous position to be is right behind the counter closest to the drill. Special attention should be paid to the Spec-Ops and Demomen which spawn on the balconies, as they tend to hide behind the pillars and become difficult to target. As on the other floors, one player will kill approaching enemies and turrets, while the other focuses on the balconies and more distant enemies.
The Roof
[
]
Dealing with the SWAT Heavy Gunners is easier if focused on one at a time. Both players should stay on the same side of the roof and wait for the Heavy Gunners to appear. If they appear close to each other, it is advised to try and lure them away to isolate their lines of sight. If they appear on opposing sides, both players should focus on the same Heavy Gunner. While you wait for the heavy gunner to spend it's ammunition, the players should stay behind cover and focus on any turrets and enemies that appear. It is also possible to make the Heavy Gunner focus on one of the players while the other flanks it, dealing damage during it's fire cycle, but this requires much more coordination and can be quite difficult to pull off, especially if the players aren't equipped with damage reduction armour.
Rewards
[
]
Rewards
6552
9672
9048
3120
Crown Rewards
+50
+75
+175
213 000
228 000
250 000
+50
+75
+175
31:00
26:30
23:30
Special Rewards
[
]
Players will get rewards after the reward cycle is over if they completed at least 5 Waves. Completing more waves will improve the rewards. By completing the whole mission within 22:00, players will get the Perfect Reward.
5 Waves Completed
[
]
10 Waves Completed
[
]
15 Waves Completed
[
]
Heist Completed
[
]
Perfect Heist
[
]