Heavy Tank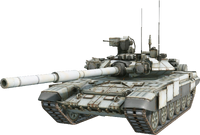 Information
Health Points
15000
Tank Turret
Damage
25-30
Rate of Fire
160
Accuracy
25

The T-90 Heavy Tank is the boss of Spearhead.
In the last wave of Spearhead, this tank will enter the area through the gate and must be destroyed to complete the mission.
The tank can be destroyed by SA-16 found on the mission or by other explosives such as grenades. It takes 3x damage when hit on its Road Wheel on side, Fuel Cell on back side. Additionally, it is possible to plant a C4 on each side of the tank to deal 5000 damage, costing 500 resources. The Hydro-Disintegrator can also be used to damage the tank.
Community content is available under
CC-BY-SA
unless otherwise noted.