"

Escape the desert storm clear the area of all remaining cyborgs! You will be aided by an unexpected ally, but watch out: he may have his own stake!

"

 

— Mission Description 
Eclipse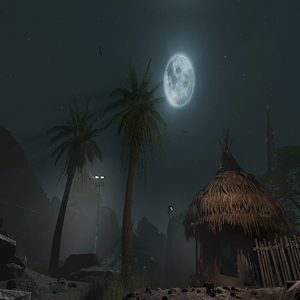 Location
Africa
Difficulty Levels




Eclipse is a Survival Mission. Alternately known as Blackout.
Background
[
]
At the end of Anubis, the Warface team has to escape the desert while clearing the area from Cyborgs.
Walkthrough
[
]
The mission is divided into introduction and three acts.
Intro
[
]
You will appear in the last part of Anubis. Survive the Cyborg attack until the armored vehicle arrives. Enter the vehicle and defend it while being attacked by Blackwood soldiers and Cyborgs.
Act 1
[
]
The vehicle will arrive in dark area. Your team will have to survive and reach Blackwood's outpost. Stay near the illuminated areas and kill the cyborgs.
Reaching Blackwood's outpost, you should enter the bunker. Inside the bunker, you must destroy the defense turrets. After that is done, exit the bunker and follow a path to a nearby local village.
Act 2
[
]
Follow the road to the village and move to its exit. Be cautious of land mines after exiting the village.
Make your way to the ruins. Inside the ruins, an Enigma will appear, make sure to eliminate it quickly. Reach the facility and shut it down to halt the production of new cyborgs.
Act 3
[
]
Exiting the facility, you will appear in a canyon outside. Fight Blackwood forces and reach their military base while avoiding land mines. You will fight a Mammoth turret. After destroying the turret, you will need to destroy the Sharckopter using RLGS-100 Rocket Launchers.
After you have eliminated the helicopter, move to the landing pad. You will now have to fight waves of Blackwood soldiers and Enigmas. The mission ends when you successfully eliminate all enemies.
Rewards
[
]

Easy
Rewards
990
2145
1650
Crown Rewards
+7
+19
+34
143 393
161 638
172 979
+7
+19
+34
30:32
26:01
24:04

Normal
Rewards
2100
4200
3150
Crown Rewards
+10
+32
+58
156 662
174 445
186 139
+10
+32
+58
33:52
28:31
26:02

Hard
Rewards
3437
6875
5500
Crown Rewards
+18
+50
+92
177 029
191 651
200 168
+18
+50
+92
01:00:15
47:39
41:45
Special Rewards
[
]
Normal

[

]
Escape From Anubis Reward (Normal)
Item
Duration/Quantity
Chance (%)
First Reward

Walther P99 Anubis Skin
Permanent
10,3%

XP Booster +15%
1 Hour
29,9%

$ Booster +15%
1 Hour
29,9%

VP Booster +15%
1 Hour
29,9%
Second Reward

Blue Smoke Grenade
3 Units
1,8%

Blue Smoke Grenade
7 Units
0,9%

Land Mine
1 Unit
1,8%

Land Mine
2 Units
1,5%

M84
1 Day
2,7%

M84
3 Days
1,2%

250 Experience Points
-
71,4%

375 Experience Points
-
13,3%

500 Experience Points
-
2,7%

625 Experience Points
-
1,8%

850 Experience Points
-
0,9%
Hard

[

]
Escape From Anubis Reward (Hard)
Item
Duration/Quantity
Chance (%)
First Reward

MSBS Radon Anubis Skin
Permanent
12,7%

Sidewinder Venom Anubis Skin
Permanent
12,7%

PP-2000 Anubis Skin
Permanent
12,7%

Orsis T-5000 Anubis Skin
Permanent
12,7%

XP Booster +15%
2 Hours
16,4%

$ Booster +15%
2 Hours
16,4%

VP Booster +15%
2 Hours
16,4%
Second Reward

Blue Smoke Grenade
3 Units
1,8%

Blue Smoke Grenade
7 Units
0,9%

Land Mine
1 Unit
1,8%

Land Mine
2 Units
1,5%

M84
1 Day
2,7%

M84
3 Days
1,2%

300 Experience Points
-
71,4%

450 Experience Points
-
13,3%

600 Experience Points
-
2,7%

750 Experience Points
-
1,8%

1000 Experience Points
-
0,9%